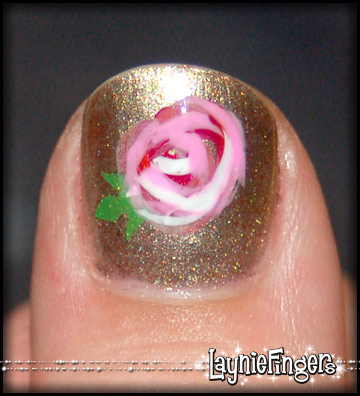 I got bored again after wearing Shield for just a day or two. The cute little stencil wasn't enough... I had to find something else fun to do. I ended up taking a cue from my sketchbook and started doodling on my nails.
For my thumb, I first stenciled a leaf. Well, I
think
it's a leaf. It's the shape I used for the tutorial, and although it sort of looks like a crown I figured that if I put a flower on top of it, it would look like a leaf instead. I should have added some detailing to it, but it's not awful. Then I painted a swirly rose. I had a decent-looking rose after 2 colors (red and orange), but then I kept going with various colors (sheer pink, pink striper, white striper) and ended up with... well, this. It's not horrible, but it sort of looks like a badly-wound ball of variegated yarn. Yea... next?
I won't even show a close-up picture of the next one. I stenciled a dragonfly, but it was just... bad. You can see it in the group shot, though, without seeing it magnified to the point it just loses visual coherence. My middle finger was interesting, though.
I used my royal blue glitter striper to paint diagonal stripes onto my nail. Simple, but then I started to think... and I wondered what the water polish would look like over this. Sure enough, it changed the color ever so slightly. It's more visible in person, but since I can't upload my actual fingers, this is as good as y'all are gonna get.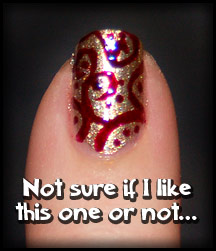 Finally, there was my pinkie. I pulled out BPAL's Blood Countess and my tiny striping brush and started to doodle swirls and dots. I think I like this one, although I'm not exactly sure. It made a pretty filigree, and the glitter shined through the bloody red in a very delicate fashion.
Of course, now I'm very tempted to do disturbing splatters and drips of blood down my nails with this one. Can't you see it? Ahh, it's so perfect for Halloween! It suits my mood the last couple of days as well! I wonder how well this polish would show on black...
Finally, here's the four nails together. See what I mean about the poor dragonfly? He looked much better in real life.
Ah well, it was a fun experiment! Do you ever doodle on your nails? I'd love to see what you do! Show me, or describe it in the comments!
Some polishes were provided by their companies' PR groups for evaluation.