Once I got that luscious bunch of BPAL Claw Polish, I couldn't stop at swatching. I had to wear at least one as a manicure, and Bordello totally stole my heart. Something about the shimmery sparkly depth of it called to me, and I won't lie- I didn't fight it. I wore it plain for a couple of days, then decided to stamp it using one of the polishes from my recent Dollar Store haul-
Maybelline Matte Gold
.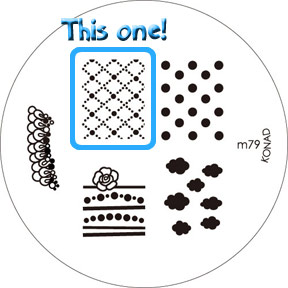 It was really pretty, if I do say so myself. I went with a pattern I've used before, simply because I like it. For some reason, of all the image plates I have (hee, not that many), I tend to gravitate toward m79. I love the netted pattern, and although I keep wanting to use others, this one draws me in often.
This time, I found that the pattern stamped in gold played well with the shimmer in Bordello, really capturing the essence of the description of the polish. Black Phoenix Trading Post describes Bordello as "the bright raspberry of Dance Hall flocked wallpaper," and the subtle repeating print mixed with the shimmer really brought to mind aged dance hall patterns.
Because I had a coat of Seche Vite between the base polish and the stamp, there was a subtle depth to the finished look that I loved. The interplay between the shimmers was interesting, and although I finished with another coat of Seche Vite, they almost looked as if they should feel velvety, as if you could reach out and pet them and feel them soft and fuzzy under your fingertips. It was fascinating, and I couldn't stop looking at my nails, shifting them in the light, loving the look of it all.
Of course, the next step would be to paint a matte topcoat over this look, but that's tomorrow's blog. :D
I tried to capture this in a photograph and failed miserably. I wish I could take video of this, show you just how downright magical it looked, the silver shimmer in the Bordello shining up through the raspberry polish, and dancing with the gold stamp. Unfortunately, I failed as a photographer, and am left with only this single image. Sad, isn't it?
But you can imagine with me the sound of the dance hall piano, the laughter of the people inside...
BPAL's Bordello was provided by the company for evaluation.