I have such a short attention span. After wearing
my grownup manicure
for all of 6 hours, I realized I was bored to death with it. I also was dealing with a bit of anxiety from a morning meeting (LONG story), so I decided to do a bit of modification to my manicure. Those of you who follow me on Twitter got a sneak peek of this one. (Hint hint-
you can follow me too
!)
I thought for a while, and decided that baby pink goes well with cocoa brown. The problem? I have no pink that I felt was appropriate. That's ok, I can mix colors! I pulled out my polishes and started looking. I seem to have mainly one type of pink in my collection- HOT. That wouldn't do.
However, then I realized that if I mixed my pink
Kiss Nail Art Nail Paint
with my
Milani Bare With Me
, I'd end up with a pink very close to what I had in mind. Looking back, I'd probably want to warm it up a bit, but I'm pretty happy with it as it is.
I ended up using some recycled plastic cups to mix polish in. My step-grandmother is in a nursing home, and they bring her medications to her in a little plastic cup. Since she gets them 2-3 times a day, that's a lot of cups. She saves them because she thinks they're so cute, and doesn't want to see them thrown away. When she heard I use them for nail art, she wanted my step-mother to bring them to me. That made my day, you know? Just a little peek into my life.
Now, one problem I ran into is that while I mixed enough to do all my nails, it ended up starting to dry out and be unusable by nail 3 or 4. That's easy enough to fix, though. I put a single drop of
Orly Nail Lacquer Thinner
into the mix, stirred it well with my dotter, and the polish was back to new again. I ended up doing that three times total, and had no problems with getting the dots done.
A quick note about nail polish thinner: it's a must have if you paint your nails often at all. There are lots of brands to choose from, of varying costs. It will totally rescue your thickened, goopy polishes and return them to brand-new consistency without affecting their drying time. Some people will say you can use nail polish remover for this, but don't: it will ruin your polish instead of fixing it. Thinner is inexpensive and fairly easy to find, and it's worth the effort.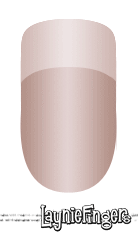 Back to the nails, already! So, once I had my pink mixed, I used a homemade dotting tool to put teeny little dots on my nails in a semi-regular pattern. It was simple enough- put a dot in the center of my nail, put one a bit higher up, then a bit higher up. Put a dot under it, then another... all about the same distance apart. It's so much easier to explain with an animated .gif!
Yes, some of the dots went over onto my skin. I did that so that the dot would look like it was continuing off the nail. Once they're dry, it's very easy to clean up the few dots over the edge using a brush and acetone. It makes the whole thing look more consistent, in my opinion.
Once the dots were dry, I applied my topcoat, then used the brush and acetone to clean up all my edges. I am loving using the brush for cleanup, now that I've figured out how to do it. It took a bit of practice to get the hang of it, but I think it's working well now.All I have left to figure out is exactly how much to clean off around the cuticles to get that amazing look I see on so many blogs. But that will come with practice.
And there we go- I went from a very plain, neutral manicure to a fun dotted girlie one! You could even add a pink rhinestone in here and there, or do a pink french tip- that would be adorable if my nails were long enough!
Polishes were provided by PR for evaluation.